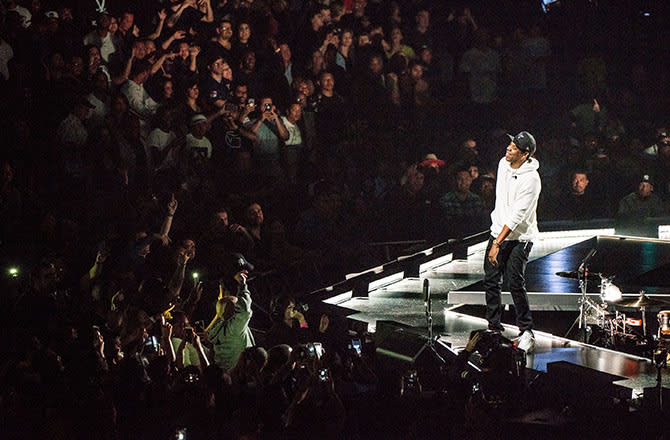 Jay Z's newest album, 4:44, received widespread critical acclaim and support, and the certified platinum album shot straight to No. 1 on the Billboard 200 soon after its release. However—and it may be hard to believe— the rapper's 4:44 Tour is not selling too well at all, if you believe people on the internet and a report by Digital Music News.
The tour officially kicked off last week on October 27, but fans have been seeing tickets going for prices like $6, $11, or $24. To be fair, these tickets are on resale sites like Seat Geek or StubHub. Fans are also able to buy tickets just days before the date of the show, which is usually unheard of. For example: there are still tickets available for the show in Denver on Sunday, November 5, with floor tickets for as low as $69. There also appear to be plenty of tickets still available in all sections for Jay Z's performance in his hometown of Brooklyn.
Although no statement has been released either by Jay Z's camp or Live Nation, his official touring partner, many fans have taken to social media to post pretty irrefutable evidence of dirt cheap tickets and nearly empty arenas. In fact, Jay Z's historic $200 million dollar deal with Live Nation might be looking a little shaky after these reports.
The tour's opening show in Anaheim, California on October 27 had tickets going for as little as $11 just before the concert started. Of course, the most expensive ticket was going for $3,360, but the difference between the two prices is way too much to sound real.
But even if it seems like everyone is playing some elaborate joke, in a world where concert tickets in prime locations for big name artists like Jay Z are never less than a couple hundred bucks, the news that the 4:44 Tour isn't selling well is truly shocking to many fans.
Other fans are responding to these stories by sharing pictures and videos from the shows, clearly showing that the concerts are far from empty.
But maybe this was all part of Jay Z's plan. After all, one of the most memorable lines from 4:44 is when he raps, "You know what's more important than throwing away money at the strip club? Credit." And it seems a couple people have already made the connection.
Source
We all keep dreaming, and luckily, dreams come true.